Getting Started with
Breathwork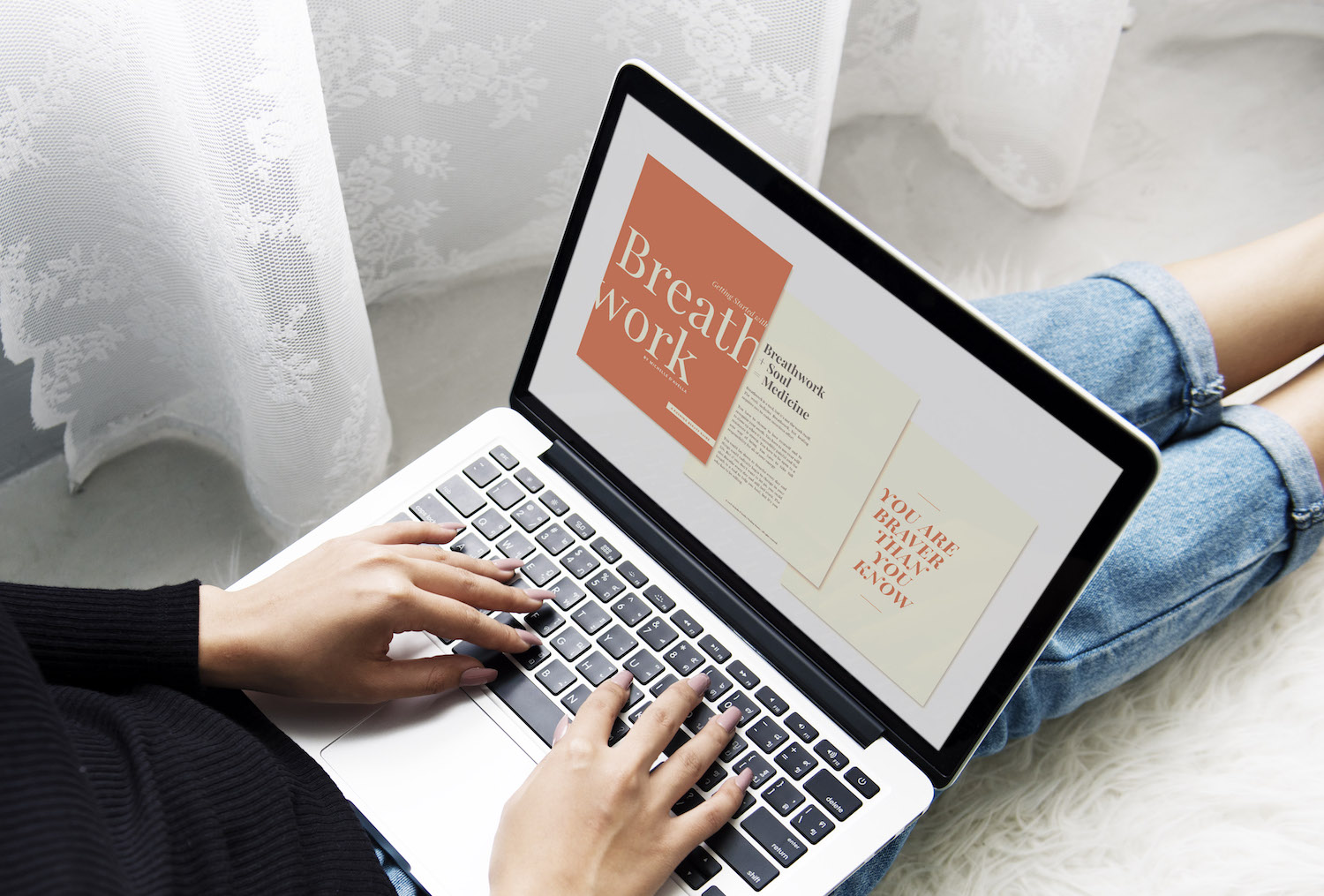 Getting Started with Breathwork
Getting Started with Breathwork is a kit to help you begin to implement a consistent Breathwork practice. I created Getting Started with Breathwork because I know how challenging it can be to commit to a Breathwork practice. This guide has a series of 3 audios depending on where you're at in your practice and how much time you can set aside. There is also an ebook about how Breathwork heals, an FAQ, and a series of printables for a 30-day Breathwork challenge.
 
wait...what is breathwork?
Breathwork is an active meditation that helps shut the mind off long enough to access stuck energy and emotions in the body. As we begin to release the mind, unprocessed emotional pain is able to surface. Breathwork gives us an opportunity to release the painful emotions and experiences that keep us stuck in our lives.
Breathwork can release unresolved emotional pain, recharge your creative battery, detox your nervous system, and nourish your soul.
We have developed a number of ways to hide from our emotions and many people are recognizing that what they've been doing isn't working, and it's time to try something else. Breathwork is the fastest way I know to shut off the mind, connect to the soul, and transform lives.
 
who this is for
I created this guide for anyone who is brand new to Breathwork and also for anyone with some experience who is in need of support in creating a consistent practice.
 
what's included
Guided Meditations
10 Minutes: This is a 7-8 active Breathwork meditation (the average time it takes for the mind to begin to let go) with 2-3 minutes of rest.
20 Minutes: A longer meditation for when you're ready to go a little deeper. You'll be guided through about 15 minutes of active breathing and 5 minutes of integration.
35 Minutes: The longest meditation in this series where you'll breathe actively for about 25 minutes and then integrate for 10.
 
Custom Playlists
I have created custom Spotify playlists for each of the three meditations. If you live in a country where you don't have access to Spotify or if you don't pay for a Premium account (the only way I advise using the meditations), I have created 3 additional versions with music playing. So, you can use these meditations with my music, my custom playlists, or your own music. All bases covered!
 
Breathwork Ebook
A 31-page book where I share what Breathwork is all about, how this is a healing tool, what it means to heal, and other insights about committing to this work.
 
Is This Normal? (AKA FAQs)
I've put together a guidebook with answers to my most commonly asked questions about Breathwork. These questions almost always include, "Is this normal?" The answer is pretty much always yes, but in this guide I go deeper into what's happening and why.
 
30-Day Challenge
Starting a practice requires consistency, and consistency is required to recognize the benefits of Breathwork on your life. Getting Started with Breathwork includes a series of printables to help you commit to a 30-day Breathwork challenge. Each day you can check off which meditation you used. Each week you will be prompted to record how you're feeling, and at the end you even get a "certificate" of completion and suggestions for celebrating yourself.
Why I Practice Breathwork
One day someone told me I needed to breathe to heal. I didn't believe it could change me in the way they claimed it would. Even with all the resistance, I showed up to Breathe, and I was cracked wide open.
In all my years of self-development and spiritual work, no amount of sitting meditation, self-analyzation, or yoga connected me to my truth in the way that Breathwork did. It healed my wounds, showed me a new relationship to life, taught me what self-love is, connected me to my body, and so much more.
Breathwork has literally changed every aspect of my life, and I'm here to support you as it changes yours.